Citizenship ceremonies
If your application for Citizenship by Naturalisation has been approved, you must attend a citizenship ceremony to complete the naturalisation process.
Rescheduling of postponed citizenship ceremonies
The citizenship ceremonies due to be held on Monday 16 October were postponed due to storm Ophelia.
These ceremonies will be rescheduled for before the New Year and we are now arranging a new date.
We will contact you in the coming weeks when the details are ready and also update this website.
The attendee lists for the postponed ceremonies are below.
Read more about the postponement of the citizenship ceremonies.
Previous ceremonies in 2017
19 June 2017 in Limerick City
355 candidates from 11 countries became Irish citizens at University Concert Hall in University of Limerick. Read extracts from the commencement address at this ceremony.
21 April 2017 in Dublin City
Over 3,000 candidates from 120+ countries became Irish citizens at the Convention Centre Dublin. Three ceremonies were held on the day. Read the commencement address from this ceremony.
What happens at a ceremony
At the ceremony you will receive your Certificate of Naturalisation and make a declaration of fidelity and loyalty. You do not become an Irish citizen until you have made your declaration.
Successful applicants who are minors (children) do not have to attend a citizenship ceremony. They will receive their Certificates of Naturalisation by post.
Registration
When you arrive at the ceremony venue, go to the registration desk to check-in. Bring a photo identity with you, eg driver's licence, PPS card.
After you register we will give you a pack that contains:
Your Certificate of Naturalisation
Information about how to apply for your Irish passport
Information on your right to register to vote
Information about the circumstances under which your Irish citizenship can be revoked
The words of the national anthem
An Irish emblem
The citizenship ceremony itself will be presided over by a judge and is usually attended a government minister. Press reporters or photographers may also be present.
The ceremony may last a couple of hours.
See photos from a citizenship ceremony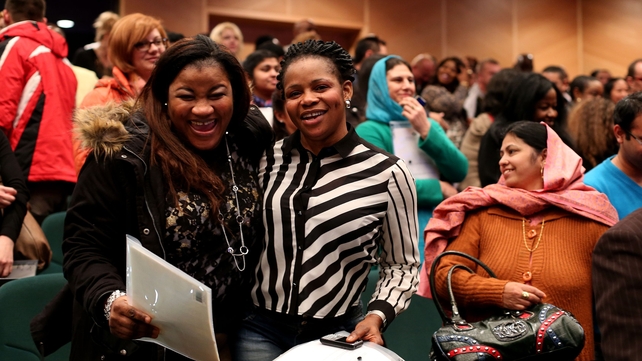 These photos were taken at citizenship ceremonies during 2015 and 2016.
Declaration of fidelity
The declaration states that you will respect the rights, freedoms and laws of Ireland. You will be given the words of the declaration on the day and you won't have to memorise them.
You do not become an Irish citizen until you make your declaration.
Declaration of fidelity to the Irish nation and loyalty to the State
"I (name) having applied to the Minister for Justice and Equality for a certificate of naturalisation, hereby solemnly declare my fidelity to the Irish nation and my loyalty to the State.
I undertake to faithfully observe the laws of the State and to respect its democratic values."
Certificate of Naturalisation
Your Certificate of Naturalisation is a valuable document and it cannot be replaced. You should keep it in a safe place.
Never laminate your certificate or make other changes to it. Unauthorised changes will make it invalid and it may not be accepted when you apply for a passport.
After the ceremony
Passport
After you become an Irish citizen, you can apply for your passport via the Department of Foreign Affairs and Trade.
Public notice
A notice will be published in the official journal Iris Óifigiúil stating that you have been granted a Certificate of Naturalisation. This notice will include your:
Name
Address
Date of your Certificate of Naturalisation
Whether you are of full age or a minor
These notices are required to be published by law and are mandatory. There are no exemptions.
Contact
If you have questions, contact us.
Updated: 17 October 2017
Tell us about any issues on this page
Page history
10 October 2017
Addition of lists of citizenship ceremony attendees for 16 October 2017
10 July 2017
Addition of information about citizenship ceremonies on 10 July 2017
21 June 2017
Details of Limerick citizenship ceremony removed
12 June 2017
Addition of note about train travel time disruption
30 May 2017
Addition of list of citizenship ceremony attendees for 19 June 2017
3 May 2017
Addition of information about citizenship ceremonies on 19 June 2017
24 April 2017
Removal of information about citizenship ceremonies held on 21 April 2017
20 April 2017
Further ceremony information added
10 April 2017
Attendee lists added for citizenship ceremonies in April 2017
20 December 2016
Page published.